Hannah Tallcot,
Nine Partners School, Quaker, Dutchess Co., New York, 1810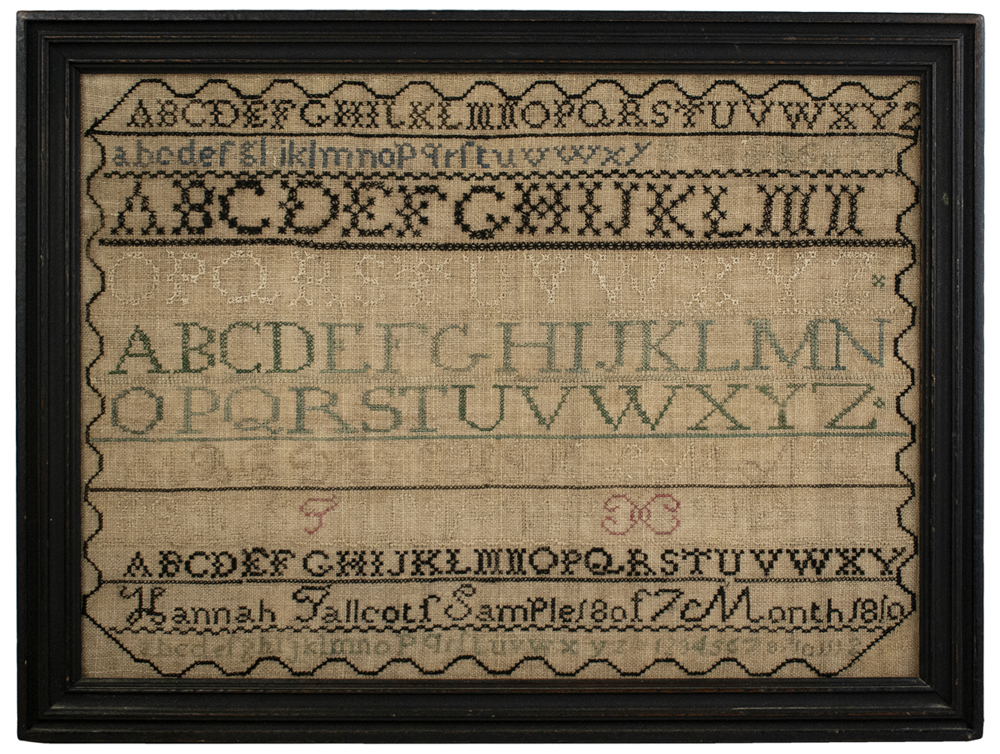 sampler size: 10¾" x 15" •
framed size: 13" x 17" •
sold
In December 1796, a Quaker boarding school opened its doors in the village of Mechanic, Dutchess County, NY. It was known as the Nine Partners School, taking its name from the tract of land on which the school was built, part of a 1697 land grant to a group of nine partners. The school functioned under the auspices of the New York Yearly Meeting. For its first five years the administrators were Joseph Tallcot and his wife Sarah Hawxhurst Tallcot, both of whom were lifelong leaders in the field of Quaker education and temperance; additionally Joseph authored many articles, books, religious tracts and memoirs. This school was the first successful American coeducational boarding school and served as a template for many Quaker schools in the early United States.
We know of several samplers made at Nine Partners, most of which are marking samplers featuring mainly alphabets. This one was made by Hannah Tallcot, the daughter of Joseph and Sarah, who was born in 1796. She signed it, "Hannah Tallcot's Sample and dated it using the Quaker phrasing, the "18 of 7 month 1810."
The ancestry of the Tallcot is very well documented in Talcott Pedigree in England and America from 1558 to 1876, by S. V. Talcott (Albany, 1876). The family includes Gov. Joseph Tallcot of Connecticut, whose son, Nathan was the first Quaker Tallcot, and great-grandfather to our samplermaker. Hannah married Slocum Howland in 1821 and their only daughter was Emily Howland (https://en.wikipedia.org/wiki/Emily_Howland ), a nationally renowned humanitarian best known for her work with the formerly enslaved and her advocacy of women's suffrage. In 1867, using funds supplied by her parents, Miss Howland purchased 400 acres in Virginia, which were sold in small plots to formerly enslaved people.  
Worked in silk on linen, it is in excellent condition and has been conservation mounted into a black painted and molded frame.