Elizabeth Copps,
"under the Inspection of Miss M Hoit," Hopkinton, New Hampshire, 1827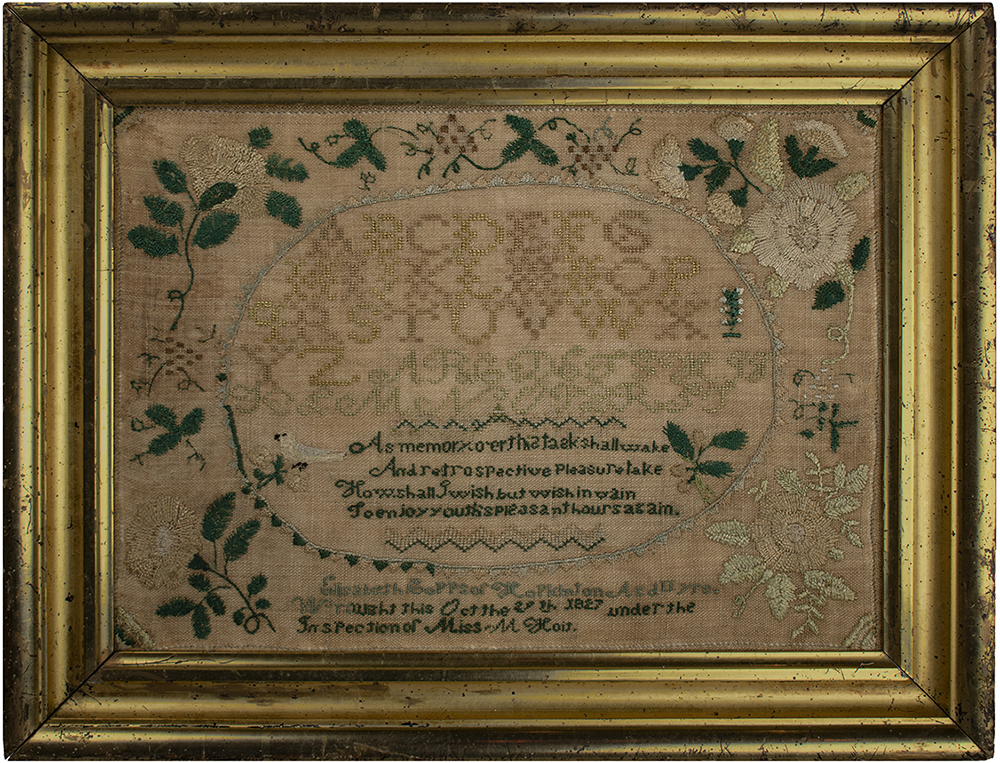 sampler size: 10¾" x 15" •
framed size: 14¾" x 19" •
sold
This fine sampler was made by Elizabeth Copps of Hopkinton, New Hampshire at age 11 in 1827; quite wonderfully, Elizabeth indicated that she worked the sampler, "under the Inspection of Miss M Hoit," interesting wording that credits her teacher.
Elizabeth featured a handsome sawtooth center oval, surrounded by large flower blossoms and grape bunches. Within the oval are alphabets and a verse that reads, ""As memory o'er this task shall wake / And retrospective pleasure take / How shall I wish but wish in vain / To enjoy youth's pleasant hours again." This verse was published as Lines for a Miss's Sampler in The Ladies Miscellany or the Weekly Visitor (October 26, 1811). A sweet little bird, two sprigs of flower buds and two zig-zag bands embellish this area as well.
The sampler was included in the 2015 exhibition, Industry and Virtue Joined: Schoolgirl Needlework of Northern New England, at the Saco Museum in Maine. It was published in the accompanying catalogue on page 130. Notably another sampler worked at the same school in the same year is in the collection of the New Hampshire Historical Society. Research conducted by Dr. Lynne Anderson, director of the Sampler Archive, indicates that the teacher was most likely Miss Mehitable Hoit (1804-1854). She married in 1828 and would have stopped teaching at that point.
Elizabeth Copps was born on December 30, 1815 in Plaistow, New Hampshire, the seventh of the ten children born to Moses and Polly (George) Copps. The family relocated a few times, but by 1824 they were living in Hopkinton where Moses was a successful farmer and shoemaker. 
On December 15, 1841, Elizabeth married Henry Dewey White (1815-1894), a dentist from Concord, New Hampshire. They resided in Concord and became the parents of four children. Elizabeth died in 1887. Much information about the family is published in Life and Times in Hopkinton, NH (Concord, NH, 1890) and other books and a full file of research accompanies the sampler.
The sampler was worked in silk on linen and is in excellent condition. It has been conservation mounted and is in a fine, gold leaf frame.