Drawstring Work Bag,
United States, circa 1840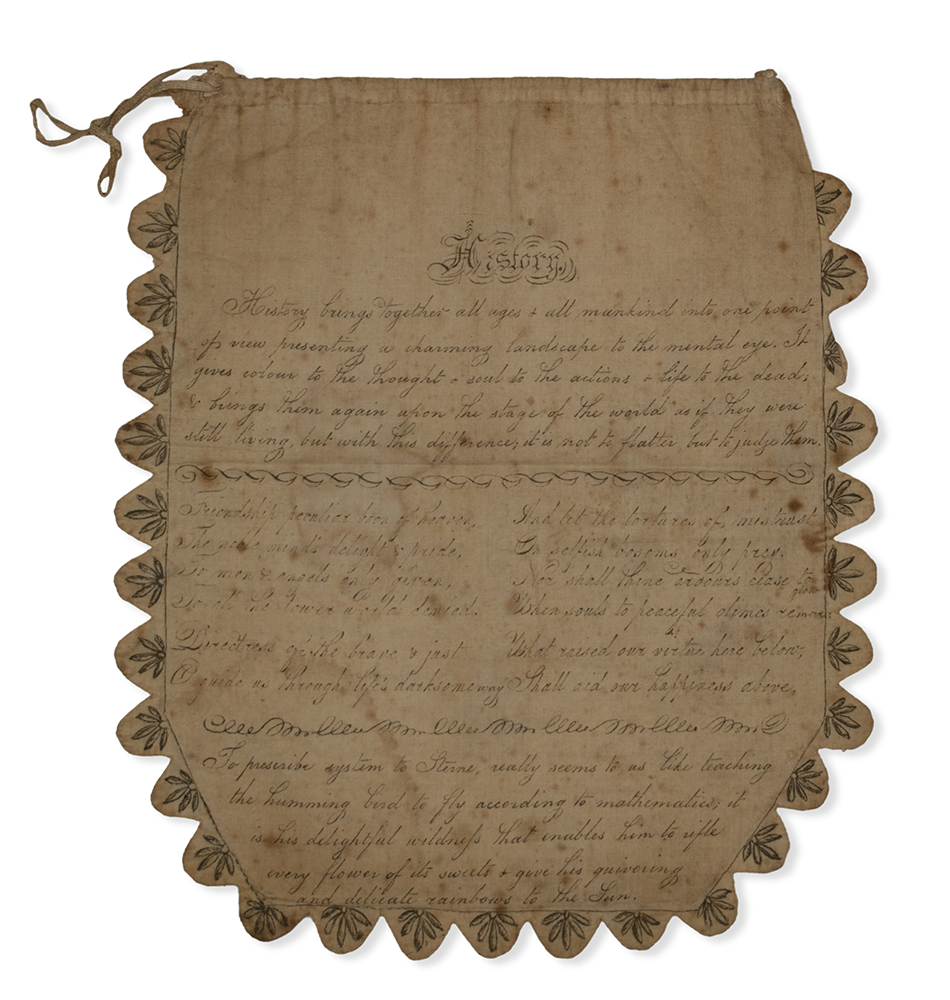 size of bag: 8¾" x 7½" •
sold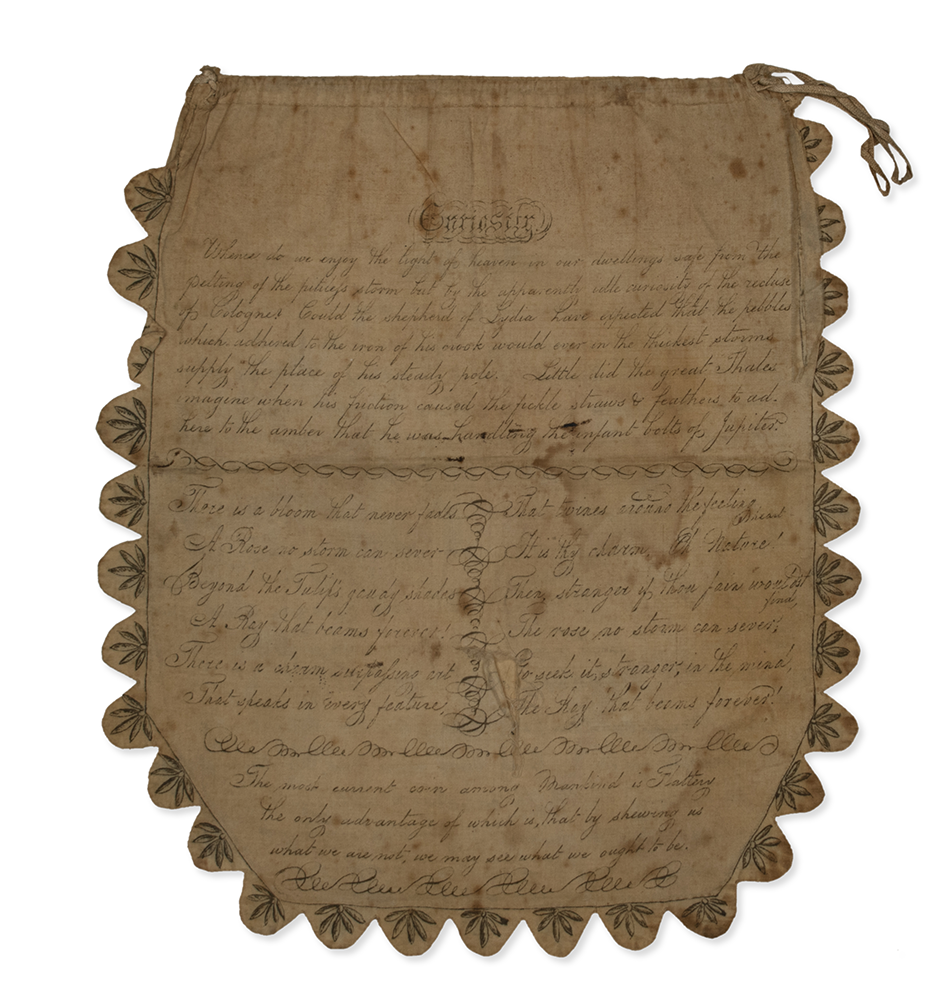 photo of reverse side
Small handmade work bags were favored by young ladies, and occasionally we find particularly interesting examples. This is one with a prolific amount of very interesting inked handwriting, calligraphy and decoration.  Probably made in New England, circa 1830 to 40. Ink on cotton. In good condition with two breaks to the fabric and some foxing and slight staining.
History
History brings together all ages & all mankind into one point
of view presenting a charming landscape to the mental eye.  It
gives colour to the thought and soul to the actions & life to the dead;
& brings them again upon the stage of the world as if they were
still living, but with this difference; it is not to flatter, but to judge them.
Friendship's peculiar boon of heaven,
The noble minds delight and pride,
To men and angels only given,
To all the lower world denied.
Directness of the brave and just
Oh guide us through life in darksome way, 
And let the torture of, mistrust
On selfish bosoms only prey.
Nor shall there ardours cease to glow
When souls to peaceful climes tremor;
What raised our virtue here below,
Shall aid our happiness above.
To prescribe system to Sterne, really seems to us like teaching
the hummingbird to fly according to mathematics; it
is his delightful wildness that enables him to rifle
every flower of its sweets and give his quivering
and delicate rainbows to the Sun.  
Reverse side:
Curiosity
Whence do we enjoy the light of heaven in our dwelling safe from the
pelting of the pitiless storm, but by the apparently idle curiosity of the recluse
of Cologne?  Could the shepherd Lyolis have expected that the pebbles
which adhere to the iron of his crook would ever in the thickest storms
supply the place of his steady pole.  Little did the great Thales
imagine when his friction caused the fickle straws & feathers to ad-
here to the amber that was handling the infant bolts of jupiter.  
There is a bloom that never fades 
A Rose no storm can sever
Beyond the Tulips gaudy shades
A Ray that beams forever 
There is a charm surpassing art
That speaks in every feature
That twines around the feeling heart
It is thy charm, Oh Nature!
Then, stronger if thou pain woulds't find,
The rose no storm can sever;
To seek it, stranger, in the mind,
The Ray that beams forever!
The most current coin among Mankind is Flattery
The only advantage of which is, that by shew-ing, us
What we are not, we may see what we ought to be.