Caroline E. Stoddard,
Chesterfield, New Hampshire, circa 1835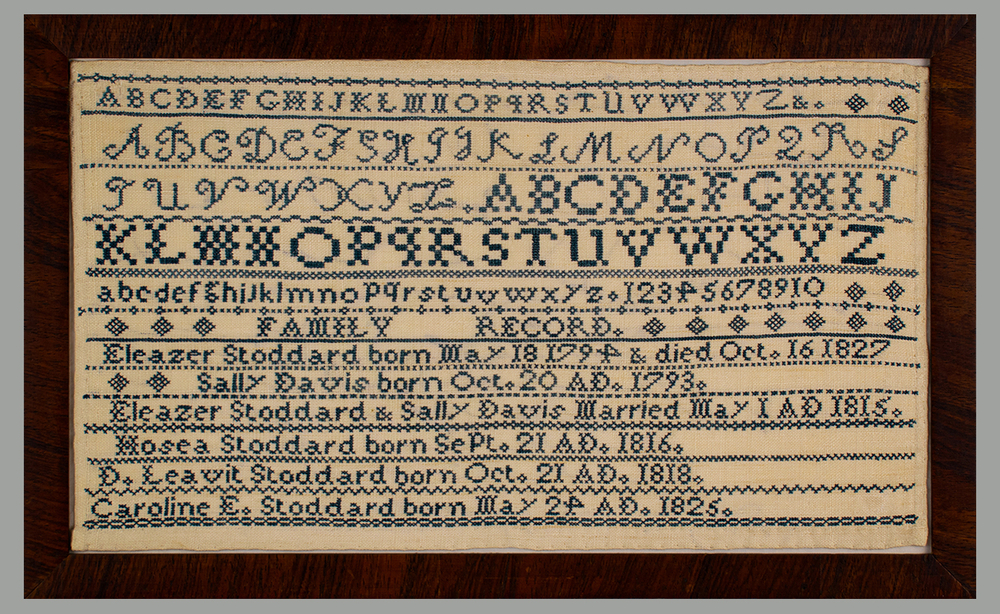 sampler size: 8¼" x 14½" •
framed size: 10" x 16¼" •
sold
This is a neatly worked alphabet and Family Record sampler made in Chesterfield, New Hampshire, which is located in Southern New Hampshire, close to the Vermont border. The sampler is unsigned but is accompanied by an early family note (see below) indicating that, "This sampler was wrought by my mother Caroline E. Stoddard Martin."
Caroline was the third child of Eleazer and Sally (Davis) Stoddard, who were married in 181 in Chesterfield; they likely lived just north of town where Stoddard Road still exists today. Caroline was born on May 24, 1825 and we can assume that she was approximately ten years old when she worked this sampler. In 1846, Caroline married a widower, Dr. Oscar Martin, a physician and merchant from Brattleboro, Vermont and later, Hinsdale, New Hampshire. History of Chesterfield, Cheshire County, New Hampshire by Oran E. Randall (Brattleboro, VT, 1882) notes that Dr. Martin ultimately "relinquished practice and is engaged in the manufacture of his celebrated proprietary medicines, "Dr. Martin's Great Pain Cure of the Age'' and "Vegetable Elixir."  Caroline and Oscar became the parents of at least two children, and the sampler descended to their daughter, Susan (Martin) Robertson, who wrote the note that accompanies the sampler.
Worked in dark blue silk on linen, it is in excellent condition, and has now been conservation mounted into a late 19th century veneer frame.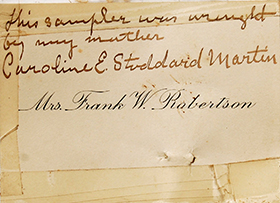 family note that accompanies sampler