Calista Houghton,
St. Johnsbury, Vermont, circa 1820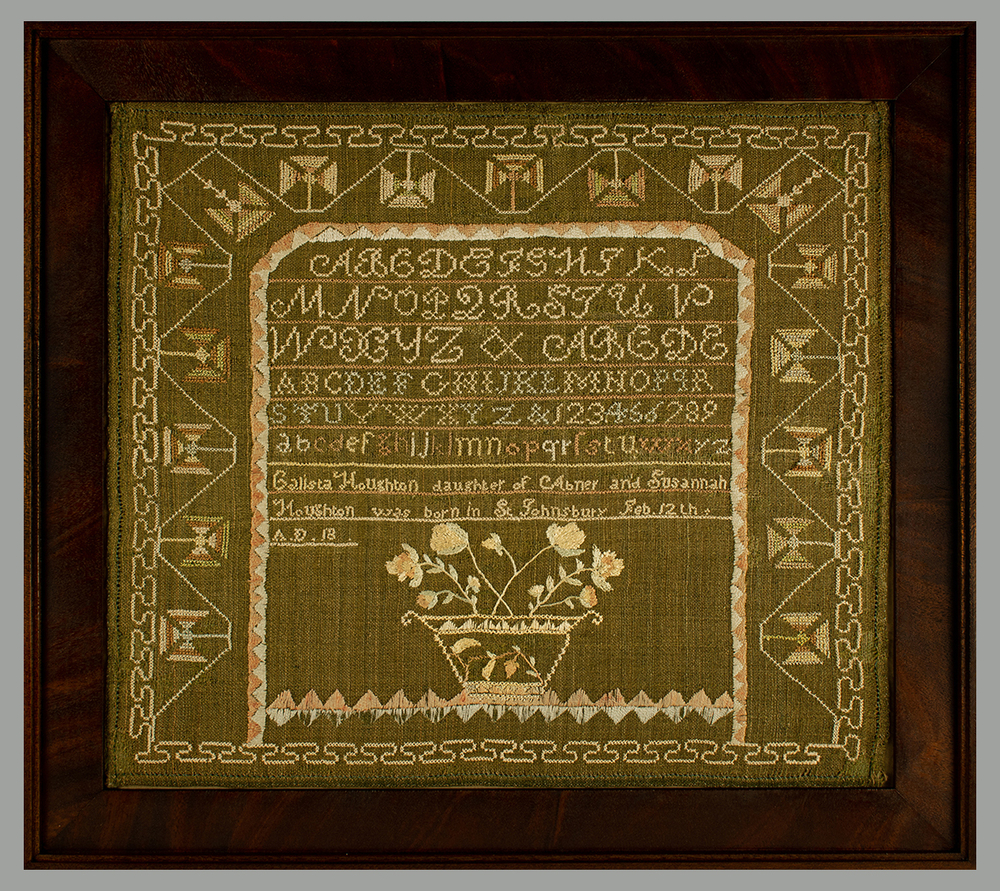 sampler size: 15½" x 17¾" •
framed size: 19 x 21¼" •
sold
Samplers made in Vermont are more scarce than those made in other New England states and linsey-woolsey Vermont samplers are an even greater rarity. This is signed, "Calista Houghton daughter of Abner and Susannah Houghton was born in St. Johnsbury Feb 12th AD 18 __," and we note that she removed the last two digits of the year of her birth. This practice was fairly common as an older woman might not have wanted her precise age revealed for all to see on her girlhood sampler. Many reliable sources tell us that Calista was born on February 12, 1807; her sampler was likely made when she was between 11 and 14 years old. 
The Houghton Genealogy: The Descendants of Ralph and John Houghton of Lancaster, Massachusetts by John W. Houghton (Frederick H. Hitchcock Genealogical Publisher, New York) traces Calista's family back to Ralph Houghton (1623-1705). Her parents were each born in New Hampshire, where their marriage was recorded in 1805, in Winchester, New Hampshire. Later that same year, they were living in St. Johnsbury. Calista married Samuel Hall (1811-1843) and they had two sons. After Samuel's death, she married David Goss (1795-1880). She died in 1865 and is buried at Burke Meeting House Cemetery, north of St. Johnsbury, along with family members. 
The sampler is beautifully composed and precisely stitched. A fine flower basket fills the lower register and inner sawtooth borders provide a fine framework. A further border of trefoil flower within a nicely deep arcade adds to the composition. 
Worked in silk on green linsey-woolsey, the sampler is in excellent condition. There is some slight loss to the lower sawtooth band and some very minor stabilizing to the linsey-woolsey. It has been conservation mounted and is in a fine, mahogany frame.