IN STITCHES: Unraveling Their Stories will open December 2, 2011 at the Chester County Historical Society in West Chester, PA, and run through September 7, 2012. The exhibit will feature large portions of the needlework collection of the historical society as well as that of nearby Westtown School, offering visitors a rare opportunity to view many samplers and other embroidered items made by girls in Chester County and the surrounding area over 200 years ago. While visually pleasing and technically interesting, these works by hand also serve as documents from which one can begin to tell the maker's story.
The Chester County Historical Society has been collecting objects and manuscripts since 1893, and its textile collection now includes 270 samplers that range in date from the mid-1700s through the late 1800s, with most made between 1770 and 1840. The variety of samplers in the collection reflects the trends of the region and sampler making in general, including multi-colored silk embroidery on linen arranged in bands of alphabets with meandering borders and floral motifs, samplers that document the maker and her family, and large decorative pastoral scenes with a mélange of sheep, rabbits, flowers and trees. A few are whitework that feature needle lace. Westtown School samplers are well represented in the CCHS collection, along with a few from other local schools about which less is known.
Westtown School (still in operation today) was founded in Chester County in 1799 by the Philadelphia Yearly Meeting of the Religious Society of Friends (Quakers), and the first printed broadside for parents intending to send their children to Westtown states that girls are to bring with them "…a pair of Scissors, Thread-case, and Thimble, Work-bag, and some plain sewing or knitting to begin with…"  The education at Westtown was to be useful and practical, thus sewing would have a part in the curriculum along with reading, writing, cyphering and other studies. Westtown students produced a great body of needlework, most of which is styled after samplers made in Quaker schools in England such as Ackworth (founded in 1779) and York (opened in 1785). These styles include darning, marking (some with the distinctive bellflower cut corner border found on Ackworth samplers), extracts (a verse or verses stitched in an undulating oval vine with leaves), and more stylized samplers with geometric medallions often accompanied by animal and floral motifs. The needlework collection at Westtown School includes over 130 flat samplers and nine embroidered silk globes (known only to have been made at Westtown), plus other items sewn or knitted by hand such as pin cushions, sewing bags and stockings. The collection also includes a number of samplers made by Westtown students while not in attendance at the school and others with no direct connection to Westtown, offering a contrast to the Quaker styles for which the school is known. Together, the Chester County Historical Society and Westtown School needlework collections are a valuable resource for a better understanding of the lives of these young women in a particular time and place.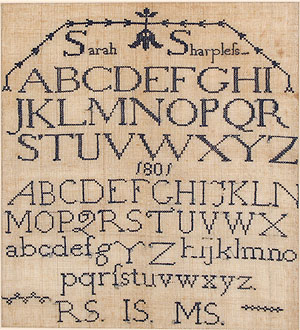 Sarah Sharpless (1788-1836) came to Westtown when it opened in May 1799, entering from Burlington, New Jersey, where she lived with Samuel Emlen after the death of both her parents, Aaron (1756-1798) and Mary (Ellwood) Sharpless (1764-1797).  Sarah's 1801 marking sampler includes the cut corner bellflower border found on Ackworth School samplers, along with the Roman style alphabet favored by Quaker schools. Westtown's needlework collection also includes a sampler made by Sarah's mother in 1773. (Westtown School)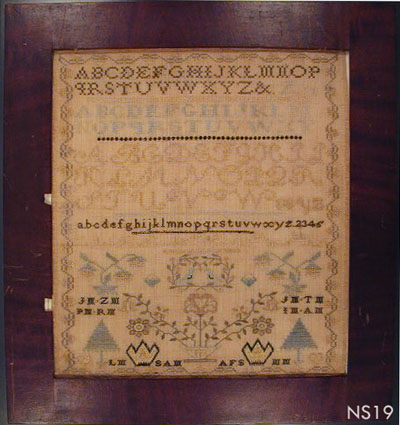 Zillah Harry Monks made this sampler in 1829 in the Kennett area of Chester County, PA. Silk thread on linen includes cross stitch, queen's stitch, Irish stitch and rice stitch. Several alphabets are arranged in bands above the floral motifs typical of ChesterCounty needlework. Arranged among these motifs are the initials of Zillah's family members, including her parents John (d. 1847) and his second wife Zillah (Harry) Monks (1779 – 1838). The sampler maker was one of seven siblings with these parents. Three of her siblings were deceased before the sampler was started, but are included in this family record in black cross stitch. (CCHS)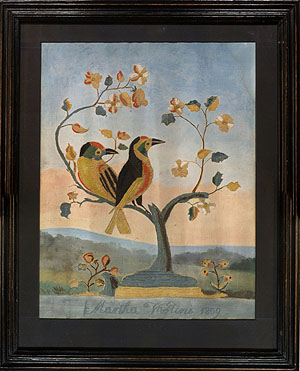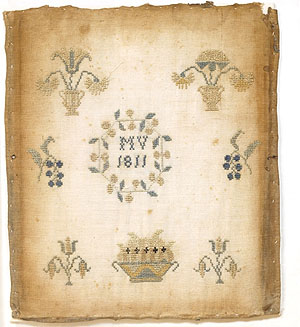 In 1809 Martha Vastine (1798 – 1873) of Coatesville created this picture with satin stitch, outline stitch, french knots and hand painting. She was the daughter of Benjamin (d. 1820) and Dorothy (c. 1775 – 1855) Vastine. Benjamin operated a store and tavern at "the Sign of the Golden Eagle" on the Lancaster Pike in EastCalnTownship. Martha was married twice, first to Joseph I. Miller (c. 1790 – 1827) and then to Joel B. Miller (1808 – 1874). Two years after the pictorial sampler was finished, Martha made a less elaborate piece that includes floral motifs often found on local samplers. (CCHS)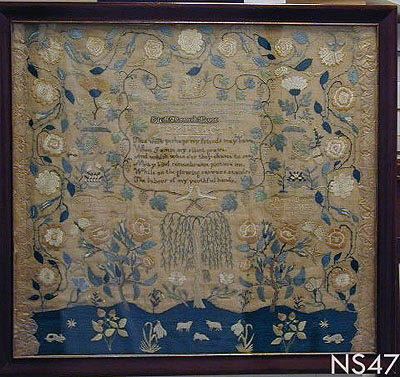 Mary Louisa Thomas (1819 – 1855) employed a wide variety of needlework stitches to create this elaborate pictorial sampler in 1832. She also included her family members in the cartouche. Her parents were Jesse and Alice (Levis) Thomas of East Goshen Township, ChesterCounty. Her brother and sisters were Gulielma Maria, Hannah Levis, and Eli Thomas. Hannah and Eli died before the sampler was completed and the black stitching around their names denotes that. None of the siblings, including the maker, lived beyond age 41. Gulielma was the only one who married. Mary attended WesttownSchool from October 1835 to February 1836. This sampler is typical of those made by girls who studied with Elizabeth Passmore, a teacher in EastGoshenTownship. (CCHS)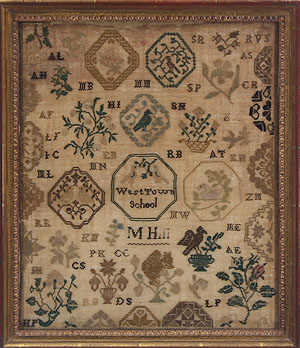 Mary Gibson Hill was born in 1785 to William and Anna (Gibson) Hill of Darby, PA, and she was admitted to Westtown in July 1799. That year – significant as Westtown's first - is stitched along the left border of Mary's sampler. Note her inscription of the school as WestTown; several variations are found on Westtown samplers including WestTown, West-Town, West-town and Weston, all used interchangeably until the mid-19th century when the school settled on the spelling used today. The half medallions that comprise the border were drawn from AckworthSchool samplers, as were the floral motifs, facing birds, gliding swan and squirrel included by Mary. The sets of initials placed throughout the sampler are those of Mary's Westtown classmates and teachers, documented in records in the school's archives. (Owned jointly by CCHS and Westtown School)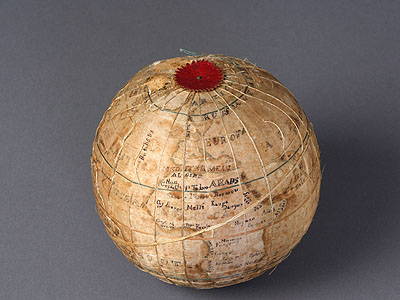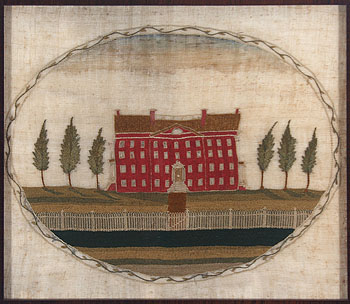 Girls with advanced needlework skills at Westtown may have made embroidered silk globes (left, silk on silk with watercolor and ink; Westtown School) or Views of the Boarding School (right, silk on linen with watercolor; Westtown School). This view of the school's original building was stitched by an unknown girl sometime before 1804 when the committee with oversight of the school deemed these needlework views "superfluous" and the exercise of making them contrary to the "original design of the Institution." Thus, very few were made by students at Westtown, but the school building is depicted on many other known samplers, including a group produced in Burlington County, New Jersey (Betty Ring, Girlhood Embroidery: American Samplers & Pictorial Needlework 1650-1850, volume II, 1993, p. 476-77).
Making the globe, however, was a very useful exercise that enhanced both one's needlework skill and knowledge of geography, a subject included in the girls' curriculum. Upon completion, the student had a globe for reference. Judith Tyner, professor of Geography at California State University Long Beach, who has studied needlework maps and globes, suggests the Westtown silk globes are among the earliest American-made globes of any kind. (Judith Tyner, The World in Silk: Embroidered Globes of Westtown School, presented at the Annual Meeting of The Association of American Geographers, 1993). Westtown girls also studied astronomy and made similar silk globes featuring the constellations. This terrestrial globe is attributed to Susan Ecroyd (1825-1878) who attended Westtown from October 1839 to April 1841. She was the daughter of Henry and Catherine (Whitacre) Ecroyd of Muncy, PA.
For further information about IN STITCHES: Unraveling Their Stories, including gallery hours and special programs, contact the Chester County Historical Society at 610-692-4800 or ChesterCoHistorical.org.