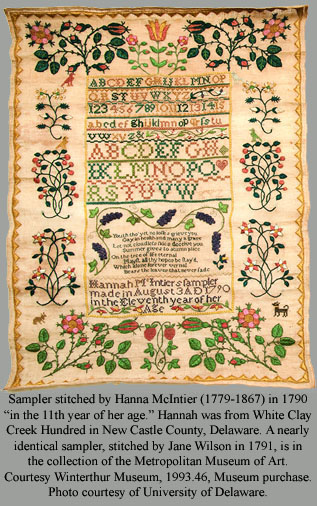 The Delaware Schoolgirl Sampler project is a newly funded collaborative effort designed to locate, document, interpret, disseminate, and promote awareness of historic schoolgirl samplers and related girlhood embroideries stitched in Delaware or residing in Delaware's public and private collections. The project is funded, in part, by a grant from the Delaware Humanities Forum to the Winterthur Program in American Material Culture at the University of Delaware, and is the most recent initiative of the Sampler Archive Project (http://samplerarchive.org).
Project activities in Delaware include the following:
1. Statewide Survey. We are in the process of conducting a statewide survey of Delaware's cultural and heritage organizations to locate American girlhood samplers and related embroideries in their collections. To date we have located more than 400 pieces of schoolgirl needlework spread across the state in museums, historical societies, libraries, and private collections. All those documented as American will be registered and photographed for inclusion in the Sampler Archive.

2. Sampler ID Days. We will conduct at least three Sampler Identification and Documentation Days to locate and document samplers and related schoolgirl embroideries in private collections or held as family heirlooms. Three Sampler ID Days open to the public have been scheduled, one in each of Delaware's three counties. The Sampler ID Days are scheduled for 10:00 am to 4:00 pm at the following locations:
June 8 – Delaware Historical Society in Wilmington
June 15 – Biggs Museum of American Art in Dover
July 18 – Lewes Historical Society in Lewes
3. Delaware Sampler Symposium. On March 22, 2014 we will hold a free one day symposium at the Biggs Museum of American Art in Dover.  Featured speakers will present on various topics related to schoolgirl needlework in Delaware, with an emphasis on sharing what has been learned from the Statewide Survey and the Sampler ID Days. The Delaware Sampler Symposium will provide the sampler loving community with its first peak at newly uncovered samplers from Delaware and the schools attended by the girls who made them. Accompanying the symposium will be one or two days of needlework classes and field trips designed to promote understanding of Delaware's sampler making traditions, and provide access to some of Delaware's most extensive sampler collections. So save the dates March 21-23, 2014!
Augmenting the information gained from these activities is the Sampler Archive Project's ongoing national survey of schools and teachers where needlework was taught to girls and young women in the 17th, 18th and 19th centuries. Gathering data from sampler inscriptions, contemporary newspaper ads, and local published histories, we have more than 70 unique entries for Delaware in the American Female Schools and Teachers Database. More than half provide information about schools or teachers in Wilmington, including both the oldest in the list (1748) and the most recent (1881). However, there are also entries for schools and teachers in all three Delaware counties; and for towns and cities across the state including New Castle, Delaware City, Newark, Middletown, Smyrna, Camden, Talleyville, Dover, and Lewes.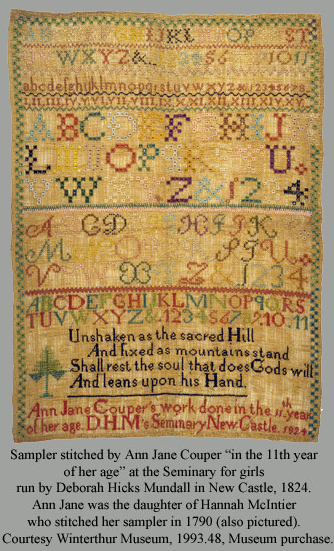 Some of the schools were very short lived, but are represented by a healthy number of samplers. For example, around the year 1800 members of the Duck Creek Meeting of the Religious Society of Friends opened the Female Southern Boarding School at Duck Creek Crossing (now Smyrna) Delaware. Although the school only lasted about five years, there is a fairly large group of samplers, most with distinctively Quaker motifs, all of which have the school's name stitched across the top. Fourteen samplers are known to date, residing in twelve different collections, and stitched using three different design layouts. The most popular style of the three includes gracefully stitched sophisticated poems of 12 to 16 lines in length, flanked by naturalistic sprays of flowers and botanical borders. The earliest known sampler from this school was stitched in 1801 and appears to be unique in its format (image included).
Other schools are known to have existed but, to date, no samplers have been located that can be tied to the school. For example, in New Castle there were at least two schools that sought to provide education to girls from impoverished families – the New Castle Charity School (opened in 1817) and the Female Free School (opened in 1823). Both advertized in local newspapers and both included needlework in the curriculum, as well as basic instruction in reading and writing. To date, no samplers have yet been associated with either of these schools – but samplers by former students must certainly exist. Missing also is information about samplers stitched by African American girls living in Delaware's antebellum Free Black communities between the 1800 and 1870: Polktown (Red Lion Hundred, New Castle County), St. Jones Neck (East Dover Hundred, Kent County), Lewes and Belltown (both in Lewes and Rehoboth Hundred) and West Laurel (Little Creek Hundred, Sussex County).
We anticipate that the breadth and depth of our approach to sampler location and documentation in Delaware will serve to fill these and other information gaps, lending richness to scholarship on Delaware's sampler making traditions and expanding the sampler community's understanding about early educational opportunities for girls of all races and economic levels. We also anticipate that this statewide effort will serve as a model for similar initiatives in other states or regions.
Through these and related activities, we will be striving to achieve the goals of the Delaware Schoolgirl Sampler project. These goals include: (a) expanding knowledge and understanding of Delaware's schoolgirl needlework traditions; (b) increasing visibility for historic samplers and schoolgirl embroideries in Delaware's public and private collections; (c) increasing the number of objects from Delaware in the Sampler Archive online database; and (d) disseminating scholarship about Delaware's schoolgirl needlework instruction nationally and internationally. Included in this article are images for a sampling of Delaware samplers and other girlhood embroideries designed to convey the diversity of needlework styles and techniques.
The Delaware Schoolgirl Sampler project is supported by the Winterthur Program in American Material Culture at the University of Delaware, the University of Oregon's Center for Advanced Technology in Education, and the Sampler Consortium, an international 1200-member organization dedicated to the study of historic samplers. Together, these organizations direct the Sampler Archive Project, a national initiative funded by the National Endowment for the Humanities (NEH) to create a publically accessible online database of documented information and high-resolution images of all known historic samplers and related schoolgirl embroideries stitched on what is now American territory. Under NEH funding the Sampler Archive Project is (a) establishing standards and protocols for documenting schoolgirl embroideries, (b) programming a sophisticated collections management database to house information and images for all documented samplers, (c) collaborating with four pilot sites to develop and implement efficient and reliable strategies for sampler documentation, and (d) actively disseminating information about the Sampler Archive through presentations, publications, and interdisciplinary professional and social networks at local and national levels. By focusing intently on a statewide expression of a nationally embraced form of educational and social enterprise for girls of all classes and race, the Delaware Schoolgirl Sampler project builds on and adds to the momentum already established for this historically important effort to uncover women's identities, voices, and stories. It is anticipated that the Sampler Archive will be available online for public use in January 2014.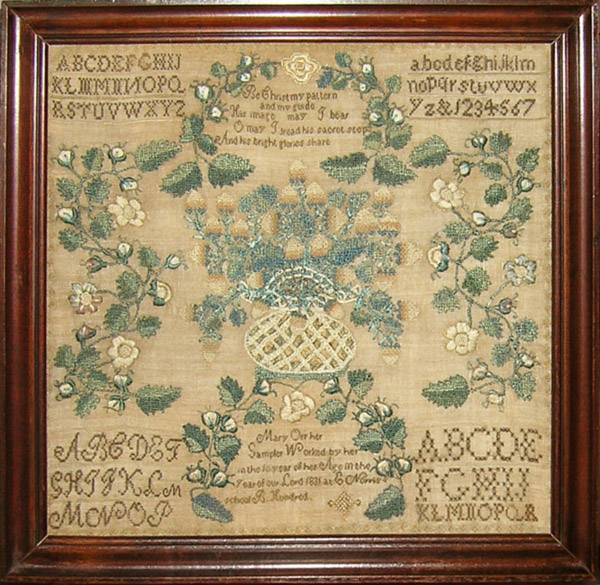 Mary Orr worked this sampler in 1831 "in the 10 year of her age"
at the school of E. Norris in Brandywine Hundred, New Castle County, Delaware.
Courtesy of M. Finkel & Daughter.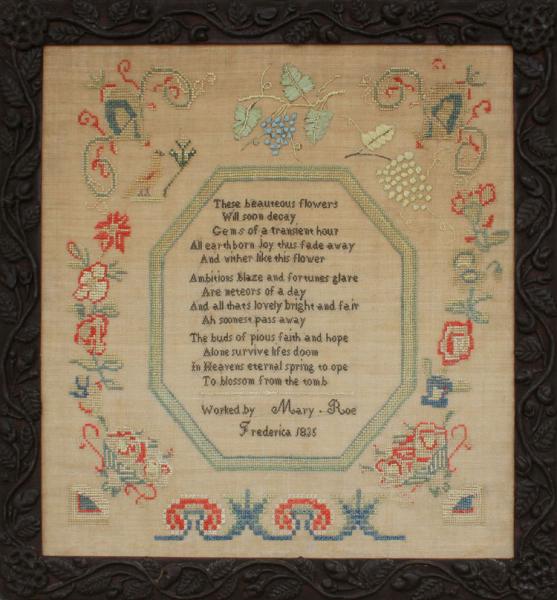 Mary Roe of Frederica, Kent County, Delaware worked this sampler in 1835. A sampler with the same format, motifs, and color palette was stitched by Elizabeth Ann Townsend, also in 1835. That sampler is in the collection of the Winterthur Museum and contains an inscription on the back indicating it was executed at "Mr. Bell's School Newark Delaware", thus also documenting the origin of Mary Roe's sampler. An 1828 announcement in the Delaware Patriot and American Watchman indicates that the Reverend Bell's "Young Ladies' Boarding School" was in operation for at least seven years. Photo courtesy of M. Finkel & Daughter.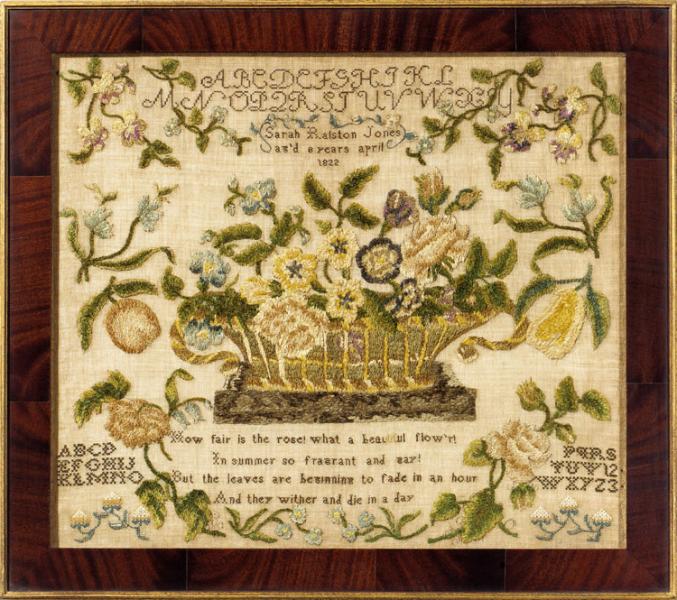 Sarah Ralston Jones stitched this sampler at a school in Wilmington in 1822 when she was only eight years old. In spite of her young age,
Sarah was already a very talented needleworker, adept at working in silk, chenille, and crewel wool.
Sadly, Sarah died September 30, 1822, only five months after completing her sampler. Courtesy M. Finkel & Daughter.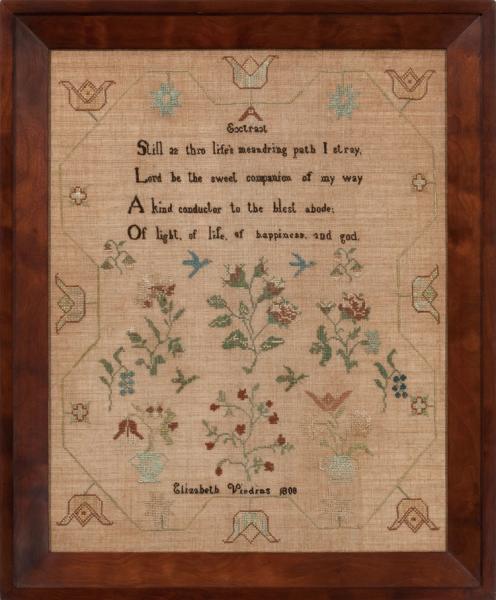 Sampler stitched by Elizabeth Virdin of Kent County, Delaware in 1808.
At the time that Elizabeth stitched this sampler she was 13 years old.
Many features of this sampler are typical of needlework executed under the instruction of a Quaker teacher,
including the "Extract" and the natural looking floral motifs. Courtesy M. Finkel & Daughter.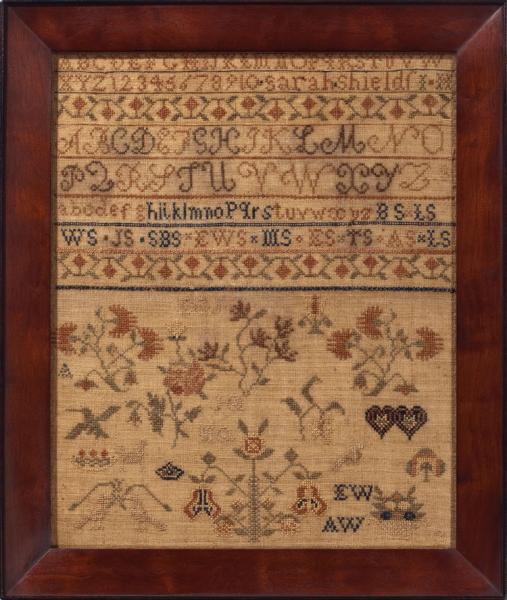 Sarah Shields from New Castle County, Delaware, stitched this sampler some time between 1822 and 1825.
The multiple sets of initials are those of her parents, grandparents, and siblings.
The initials of her youngest two siblings, born 1825 and 1827, are not represented on the sampler,
helping to establish the time period in which the sampler was stitched. Courtesy of Cindy Steinhoff.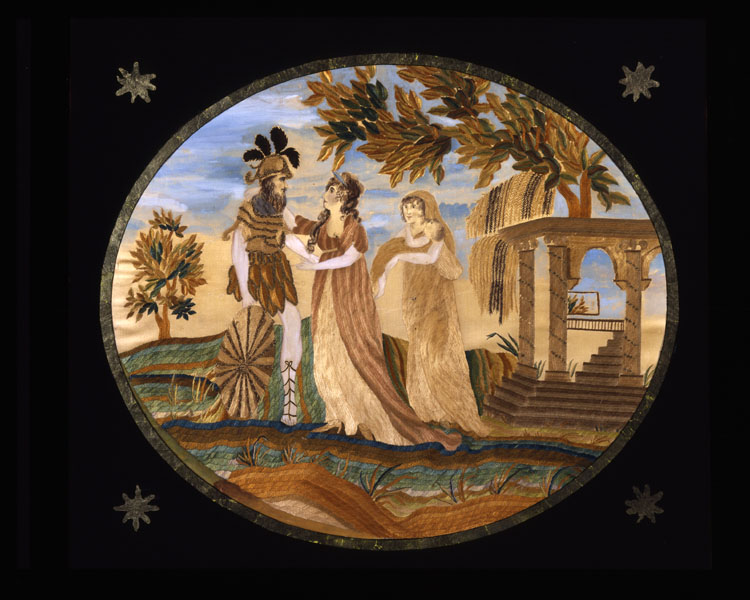 Katherine Wallace stitched this pictorial silk embroidery in Wilmington at Elizabeth Montgomery's
"Ladies English sewing and drawing school", c. 1818. The scene is entitled Hector Taking Leave of Andromache.
Courtesy of the Daughters of the American Revolution Museum, Washington, DC.
Gift of Miss M. Louise Jaquette. Photograph by Mark Gulezian/Quicksilver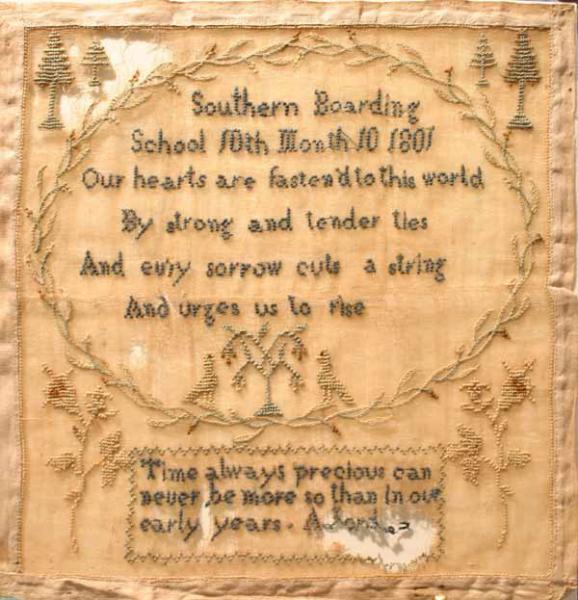 Sampler stitched by an unknown girl in 1801 at the Southern Boarding School in Duck Creek Crossing,
Delaware (now Smyrna, DE). The Southern Boarding School was established about 1800
by members of the Duck Creek Monthly Meeting of the Southern Quarter. The first superintendent of the school was
James Iddings, who moved to Duck Creek Crossing in 1798 with his wife Mary, and their four children.
This is the earliest of the fourteen known samplers stitched at the school between 1801 and 1805 –
all of which are inscribed with the school's name. Courtesy of John Chaski Antiques.