Mary Neagly,
Leah Meguire School,
Harrisburg, Pennsylvania, 1807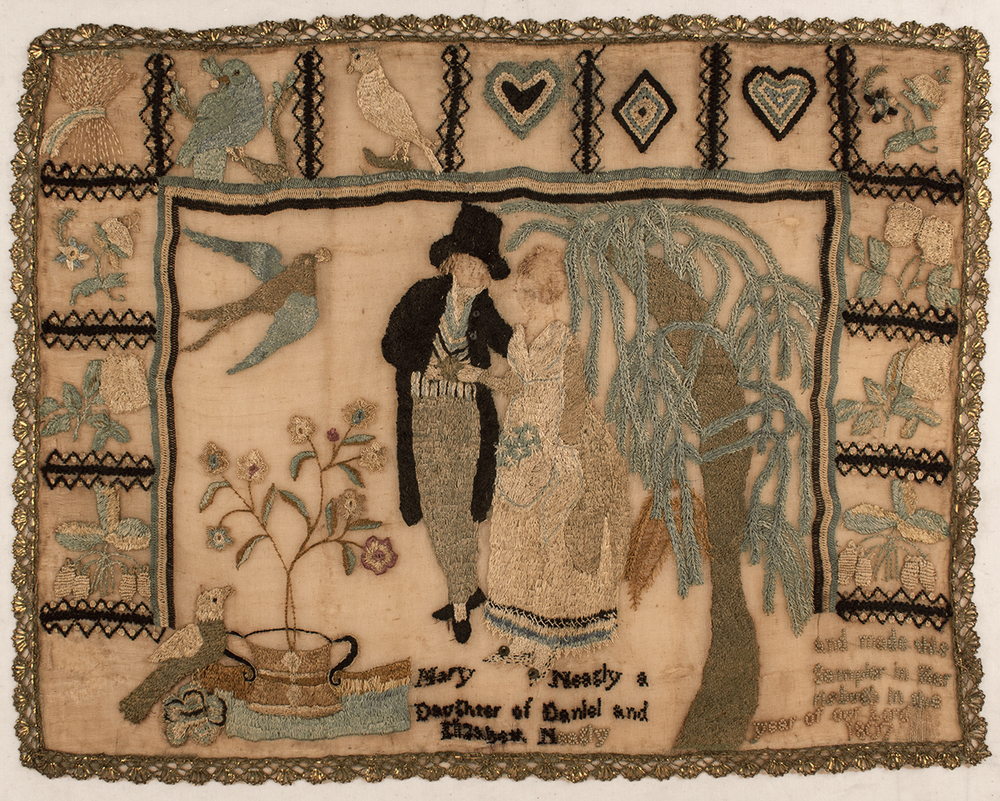 sampler size: 13" x 17½" •
sold
The samplers made under the instruction of Leah Bratten Meguire are some of the most outstanding of all Pennsylvania samplers. They feature ambitious pictorial compositions often surrounded by compartmentalized motifs, many accomplished in the queen's stitch. Betty Ring discusses these at length in Girlhood Embroidery, vol II, pages 410 to 421. Mary Neagly's sampler is a new discovery to this body of work and it features the same large, excellent couple that appears on Elizabeth Finney's sampler, also worked in 1807 and published as figure 464. The print source for this is entitled, "Spring," and was published in Philadelphia, circa 1800. Notably, the lady is gathering flower blossoms and holds them as a bouquet. Quite fortunately, the samplers by Mary Neagly and Elizabeth Finney both retain their splendid, original metallic braided edging, as well as other metallic embellishments. The large and wonderful soaring bird on Mary's sampler can be found on only one other Meguire school sampler. The delightful low basket with eyelet-stitched flowers growing from it with a bird sitting next it seems to have been Mary's own addition. 
Mary stitched on her sampler that her parents were Daniel and Elizabeth; she was born in 1793 and the family lived in Ephrata, Lancaster County, Pennsylvania. More research on this family is being conducted. A mahogany frame is also in the works, this being a last-minute addition to our site. 
Worked in silk and metallic embellishments on fine linen gauze, it is in very good condition with some loss to the linen. It has been conservation mounted and will be in a mahogany frame.