Mary Belsterling,
Philadelphia, Pennsylvania, circa 1817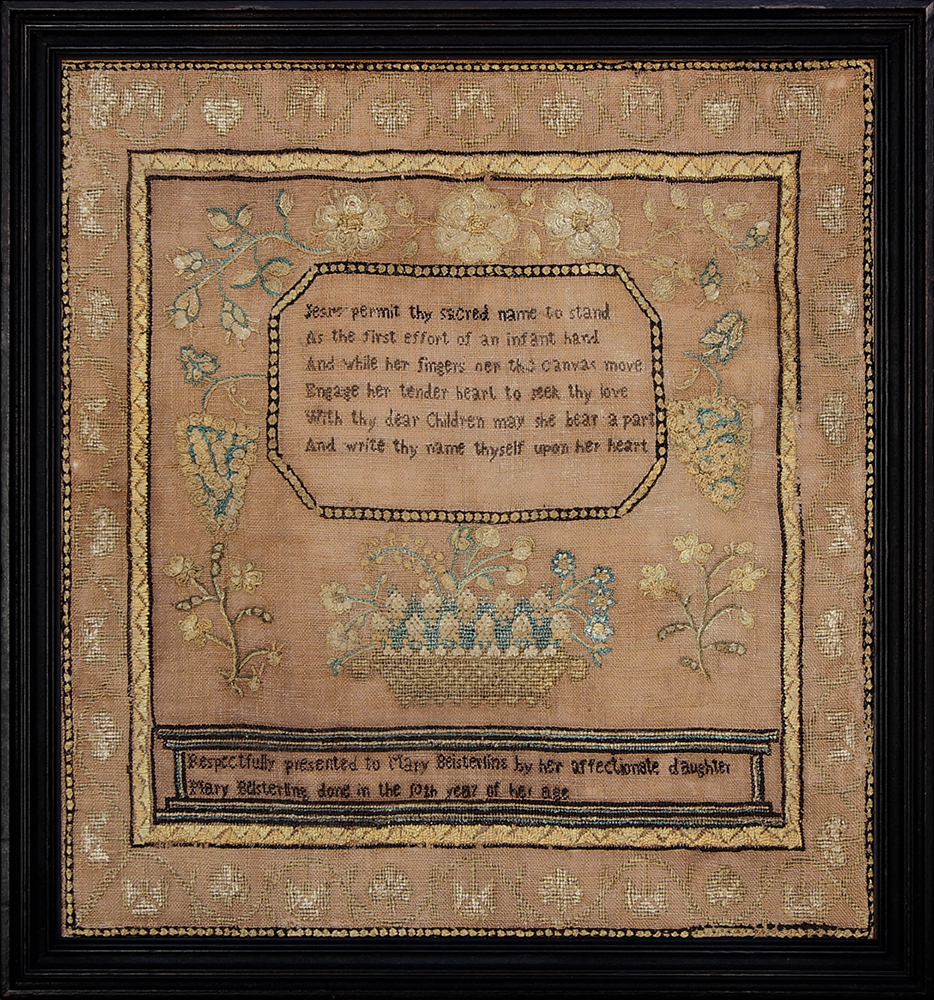 sampler size: 16¾" x 15½" •
framed size: 18¾" x 17½" •
price:
$7800
Philadelphia presentation samplers were made from about 1816 to 1839 and are easily recognizable for their unusual, specific elements, overall composition and excellent workmanship. These samplers have been highly regarded for many years and some are published by Betty Ring in Girlhood Embroideries, vol. IIand American Needlework Treasures,and as part of the Theodore H. Kapnek collection, inA Gallery of American Samplers by Glee Krueger. We are pleased to be able to offer a newly available classic Philadelphia Presentation Sampler, made by Mary Belsterling, age 9, circa 1817.
Approximately thirty of these samplers are currently known and many of them, including Mary Belsterling's, contain the verse beginning, "Jesus permit thy sacred name to stand / As the first effort of an infant hand." The verse on these samplers is generally framed in a handsome octagonal Queen's stitched border. These samplers also have a floral vine extending down around the verse, occasionally with bunches of grapes on either side and a prominent queen's-stitched basket of flowers as a focal point. The girls' inscriptions are frequently enclosed in an architectural plinth and noted that they are "Respectfully presented to" her parent or parents. A satin stitched sawtooth border frames the work with a large border of a floral vine. Some of the samplermakers, including Mary, created the same Queen's stitched band along the outer edge of her sampler, as that which was worked around the verse.
Within her inscription, Mary presents her sampler to her mother of the same name, and notes that she was "in the 10th year of her age." Mary was younger than many of the makers of Presentation Samplers. Her sampler most closely resembles two known samplers from this group that date 1816 and 1817. That made by Eliza Weckerly in 1817 is figure 72 in A Gallery of American Samplers, and is almost identical to Mary's in composition.
Excellent information about the samplermaker's family is available in Among the Ancestors of Sturges Belsterling Schley by Charles Starne Belsterling (New York, New York, 1943). John Jacob Belsterling, "a man of culture and education," arrived from Zurich, Switzerland in the 18th century and became an important citizen of Philadelphia. He served in and was treasurer of the 88th Pennsylvania Regiment and was integral to the formation of certain early volunteer fire companies. The Philadelphia newspapers noted his death on September 20, 1815. His youngest son, John Fonderlet Belsterling (1810-1889), was a lawyer and five-term mayor of Northern Liberties, now a part of Philadelphia and the neighborhood in which many of the makers of Philadelphia Presentation Samplers lived. Mary was born circa 1807 and was likely his sister.
A comprehensive, scholarly study of this group is currently underway with the goal that the specific teacher or teachers responsible for these outstanding samplers will be identified. Collectors or family members with a Philadelphia Presentation Sampler are encouraged to be in touch with us and we'll connect you to those conducting this study.
Worked in silk on tan linen the sampler is in very good condition with some very minor loss to the silk. It has been conservation mounted into a black molded frame.