Martha Ann Bruce,
Marshall County, Tennessee, 1841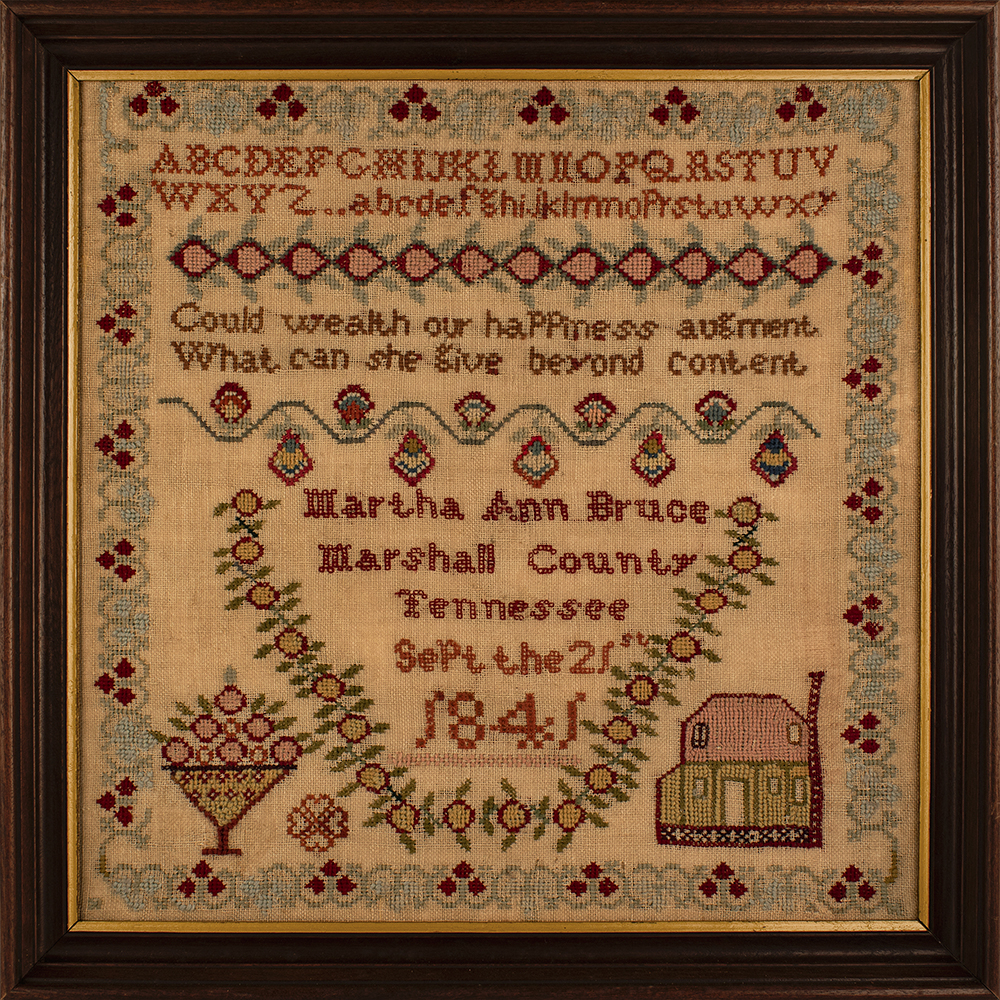 sampler size: 18½" square •
framed size: 21¾" square •
price:
$9000
Samplers made in Tennessee are wonderfully rare and the subject of an excellent, on-going study: Tennessee Sampler Survey (tennesseesamplers.com). One group of these samplers that has been documented is the Red and Green Group – ten samplers made between 1831 and 1853 under the instruction of different teachers and in various counties in the center part of the state. Our excellent sampler, made by Martha Ann Bruce in 1841, is a recent discovery and addition to the Red and Green Group and we are grateful to the researchers of this study for the information provided about the sampler and the maker. The sampler will be published in their upcoming book on Tennessee samplers.
Martha Ann Bruce was born circa 1829 to John Pennington Bruce (1805-1853) and Elizabeth (Prear Burns) Bruce (1808-1873), who lived in Holts Corner, Marshall County. She was likely the first born of their 14 children. John was a blacksmith who enjoyed sufficient financial success that he purchased a lot of land from the estate of his father-in-law in 1841. The Bruce Web: A Genealogical Study of Bruce and Related Families Descending from James Bruce of Virginia From 1768 by Thomas Allen Bruce, MD (1984) indicates that John and Elizabeth raised their ample family on a branch of Caney Spring Creek, just northwest of the present town of Chapel Hill. It's possible that further research will indicate whether Martha married or when she died. 
The sampler holds a fine appeal, with alphabets, horizontal bands, a couplet, the prominent inscription within a fine garland, the large arrangement of fruit in a raised compote and a delightful house. It seems to us that Martha realized that the chimney intended at the left of the house wouldn't fit and so she simply eliminated it from the depiction of the house. The poetic couplet was published in Introduction to The English Reader or A Selection of Pieces in Poetry and Prose, by Lindley Murray, published in 1813. A fine border, in keeping with the red and green characteristics, frames the sampler well. 
Worked in wool on linen, the sampler is in excellent condition and conservation mounted into what is likely its original walnut molded frame.