Margret Van Antwerp,
New York, New York, circa 1800
sampler size: 16" x 10½" •
framed size: 17½" x 12¼" •
price:
$4800
A very fine and rare example, this is a solidly stitched sampler with no linen showing. It is signed, "Margret Van Antwerp was born March the 10 1788 made this sa…" in blue silk on tan, in the two lines beneath the verse. While not easy to read, it is certainly legible. The sampler presents a fully worked center section with verse from poems by Isaac Watts and Elizabeth Singer Rowe, published in the 18th century.  Below is a transcription of these verses. A tradition of this type of work exists and we have known of other similar samplers, made in the 18th century by girls from prominent families of Dutch ancestry who lived in New York or northern New Jersey. 
Margret was, as she stitched on her sampler, born on March 10, 1788. Her parents were Simon Van Antwerp and his second wife, Mary Bussing, both of New York and members of the Reformed Church of Tappan, New York. The Van Antwerp family in America began with Margret's great-great-grandfather, Daniel Janse Van Antwerp (1635-1715), of Amsterdam, who arrived on these shores in 1656. On her maternal side, the Bussing family began with Arent Harmans Bussing who arrived in 1639. 
Worked in silk on linen, it is in excellent condition, conservation mounted and in a 19th century gold leaf frame. See below for a photo of the reverse taken prior to mounting.
Transcription:
"I'd carve thy passion on the bark and every wounded tree shall droop and bear some mystic mark that Jesus dyd for me the swains shall wonder when they read inscrib'd on all the groves that I came down and bleed to win a mortals love."
 -- Isaac Watts
"Could I the spacious earth command or the more boundless sea for one dear hour at thy right hand i'd give them both away." 
-- Elizabeth Singer Rowe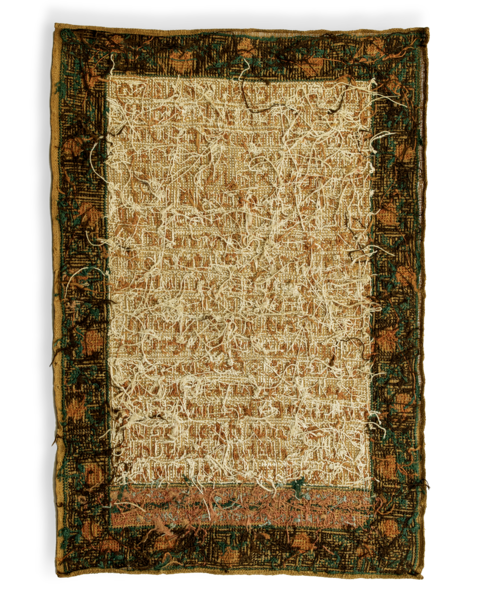 Photo of reverse