Hannah Shaner,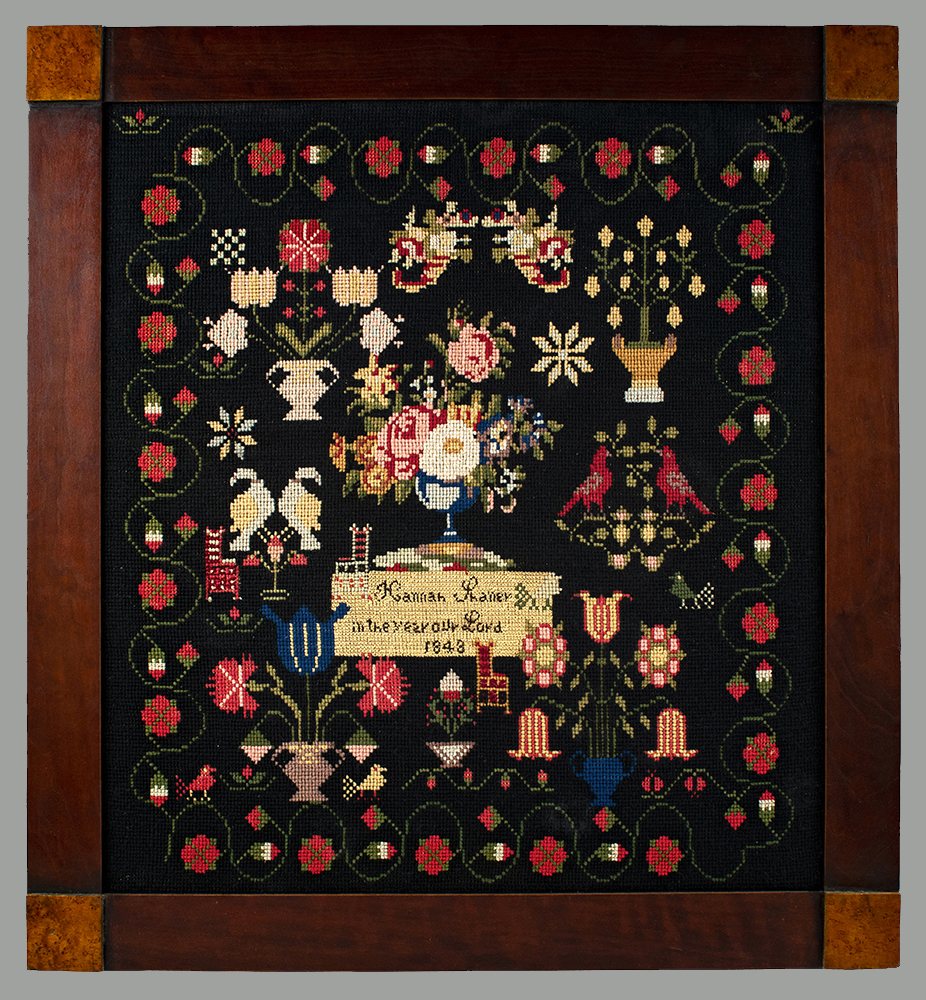 sampler size: 25½" x 23¼" •
framed size: 30½" x 28¼" •
sold
This large, solidly-stitched sampler was made by Hannah Shaner in 1848 and is a fine example of Pennsylvania German random motif design. But Hannah's strong colors and, most importantly, her decision to work the entire background in black wool, set this sampler apart from most Pennsylvania German needlework and gives it a wonderful visual exuberance. 
Interestingly, some motifs on Hannah's sampler are actually Quaker in design. The specific motifs that were taught at the many Friends schools in Pennsylvania and nearby New Jersey were pervasive and show up on samplers made by girls from other cultures. The pair of red birds with sprigs of leaves in their beaks and the blue vase of flowers below them are the notable Quaker motifs.
The sampler is carefully composed and executed, however, we note that the placement of several elements - a bird, two chairs and two flowers - spills over into the center inscription section. Were they purposely placed there or did this occur as Hannah was stitching? Either way, it lends a more personal, folky feeling to the sampler. 
The history of the Shaner family in Pennsylvania began with Melchior Schoener (1711-1778), who was born in Germany and, with his wife, Anna Maria Gieger and their sons, sailed to America on the ship Frances and Elizabeth, landing in Philadelphia on September 21, 1742. They settled in what is now Montgomery County, just outside the city. 
Worked predominantly in wool on linen, with silk used for the inscription and its yellow rectangle. This is in excellent condition, conservation mounted into a fine cherry and maple corner block frame.