Hannah Sanderson,
Waltham, Middlesex County,
Massachusetts, 1789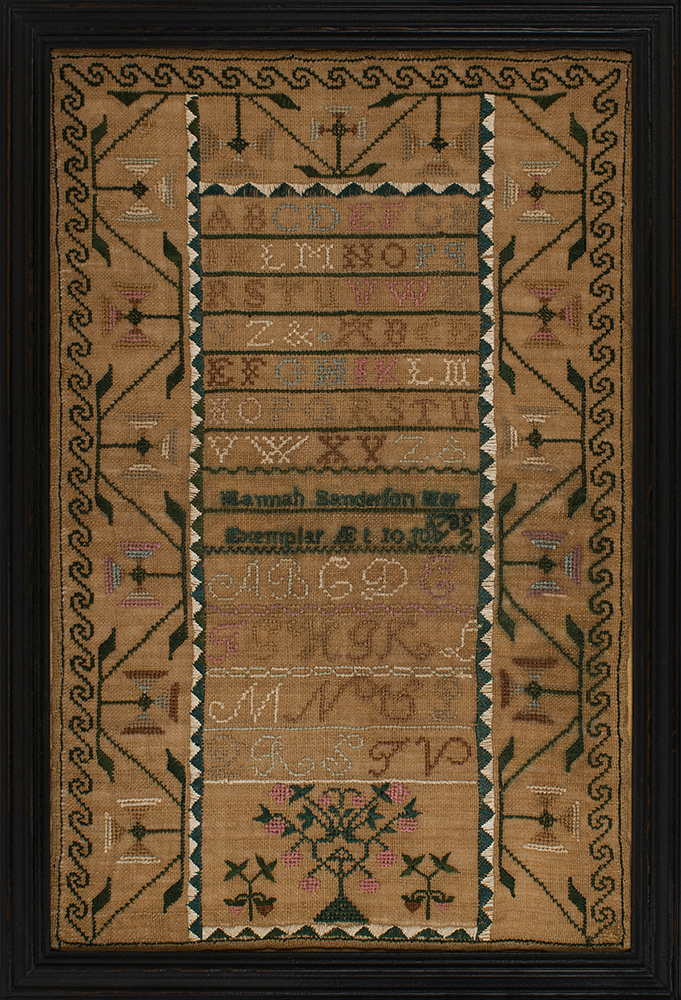 sampler size: 17¾" x 11¼" •
framed size: 19¾" x 13¼" •
sold
A group of samplers worked in Concord, Lexington, Waltham, Newton, and other small towns west and north of Boston, has been characterized by Betty Ring, in Girlhood Embroidery: American Samplers & Pictorial Needlework 1650-1850, vol. I (Knopf, 1993), as "attractive samplers, usually in vertical form, with wide, deeply arcaded borders at the top and sides, and a saw-tooth border which encloses a center section … easily recognized by their typical borders and similar workmanship." Samplers belonging to this group were made from the late 1780s through approximately 1810.
We were delighted to have acquired this very good sampler which is part of this group. The maker signed it "Hannah Sanderson Her Exemplar AE 10 July 2, 1789," and it is interesting to note her use of the word "exemplar" which is an earlier version of the word "sampler."
Hannah completed the sampler on her tenth birthday; she was born on July 2, 1779. Her parents were Josiah (1743-1822) and Hannah (Bright) Sanderson of Waltham. Genealogies of the Families and Descendants of the Early Settlers of Watertown, Massachusetts including Waltham and Weston by Henry Bond, M.D., (Little, Brown & Company, Boston, 1855) includes much about the families of both of Hannah's parents. By 1645, the Sanderson family was living in the area and the Bright family was there prior to that. Hannah remained single and died at age 37, on April 17, 1816.
The sampler was worked in silk on linen and is in excellent condition with some very slight running of the green dye. It has been conservation mounted and is in a molded and black painted frame.