Fanny Wilson,
Philadelphia or Burlington County, New Jersey, 1795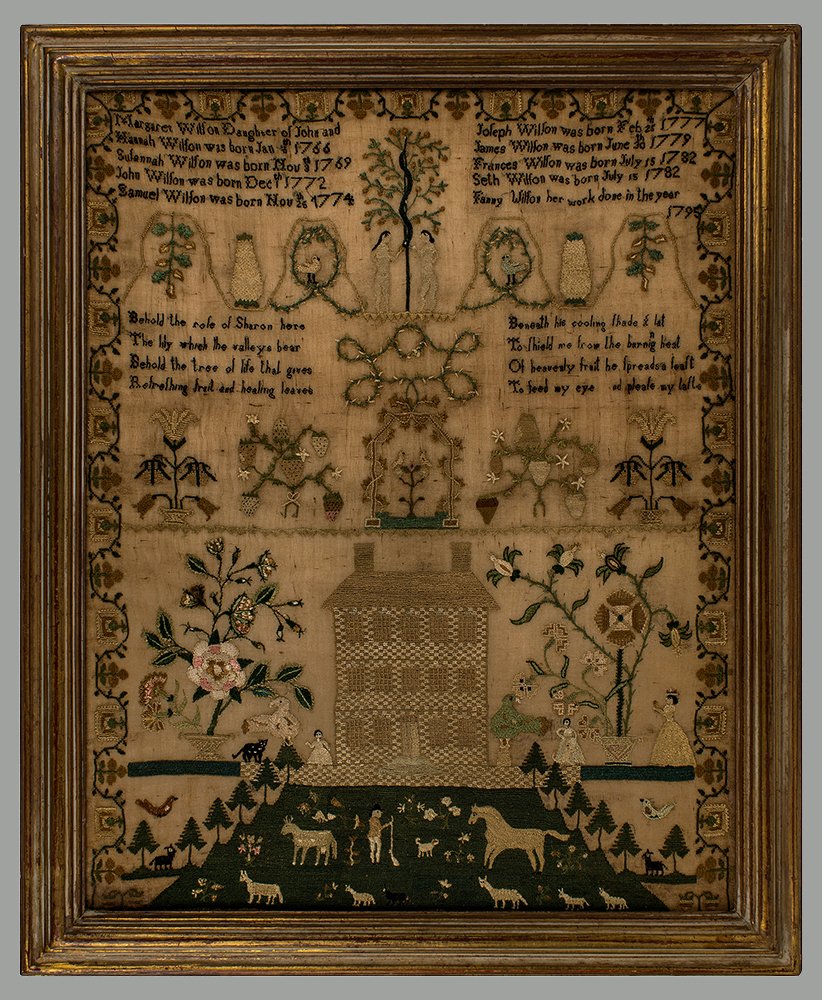 sampler size: 19½" x 15½" •
framed size: 22½" x 18½" •
price:
sold
One of the finest samplers that we have owned in the past several years, this is a treasure – a very beautifully composed and executed sampler made by Fanny Wilson in 1795. Her needlework is extremely fine and delicate throughout, displaying an unusual talent.
The main depiction is a fine double-chimney brick house flanked by a pair of huge birds and small female figures and a whimsical cat standing on the brick wall in front of the house. Above the house is an extremely delicate gazebo housing a pair of birds flanked by strawberry plants and baskets of flowers. The house is set on a stepped terrace lawn, a characteristic found on samplers from Philadelphia and southern New Jersey, with precise pine trees at every level. Populating the lawn is a gentleman leaning on his long rifle and a wonderful assortment of animals including a fine large horse and a bull, along with many little flowering plants. 
Of additional note is the uppermost band, centering on a depiction of Adam and Eve with a fat black serpent coiled around the delicate trunk of an apple tree. While English samplers routinely include Adam and Eve, American samplers rarely do.Few samplers from the mid-Atlantic states include detailed family record inscriptions, which appear at length in the uppermost register of this sampler - the births of the eight children of John and Hannah Wilson, beginning in 1766 and culminating with twins in 1782. Our samplermaker was one of the twins, Frances and Seth, the youngest children of the family. She signed her sampler as Fanny at the end of the listing of births. 
The provenance of this sampler is significant as well; it was in the collection of Theodore H. Kapnek, exhibited at the American Folk Art Museum and published as such in Glee Krueger, in A Gallery of American Samplers: The Theodore H Kapnek Collection (New York: E.P. Dutton, 1978), figures #36 and #36a. 
At that time, the sampler was labeled as "Pennsylvania (?)" and although it resembles other samplers known from Philadelphia, we researched the specifics of this family and it seems highly likely that the John and Hannah Wilson family was from Burlington County, New Jersey. It's possible that Fanny attended school in Philadelphia. Interestingly, renowned sampler scholar Betty Ring, refers to a sampler made by Abigail Jones in 1793, and specifically notes its great similarity to Fanny's sampler; Abigail was also from Burlington County. Indications are that Fanny's parents, John Wilson (1749-1823) and Hannah Burton (1749-1802) lived near Mount Holly. 
The sampler was worked in silk on fine linen and is in excellent condition. It has been conservation mounted and is in a later gold leaf frame.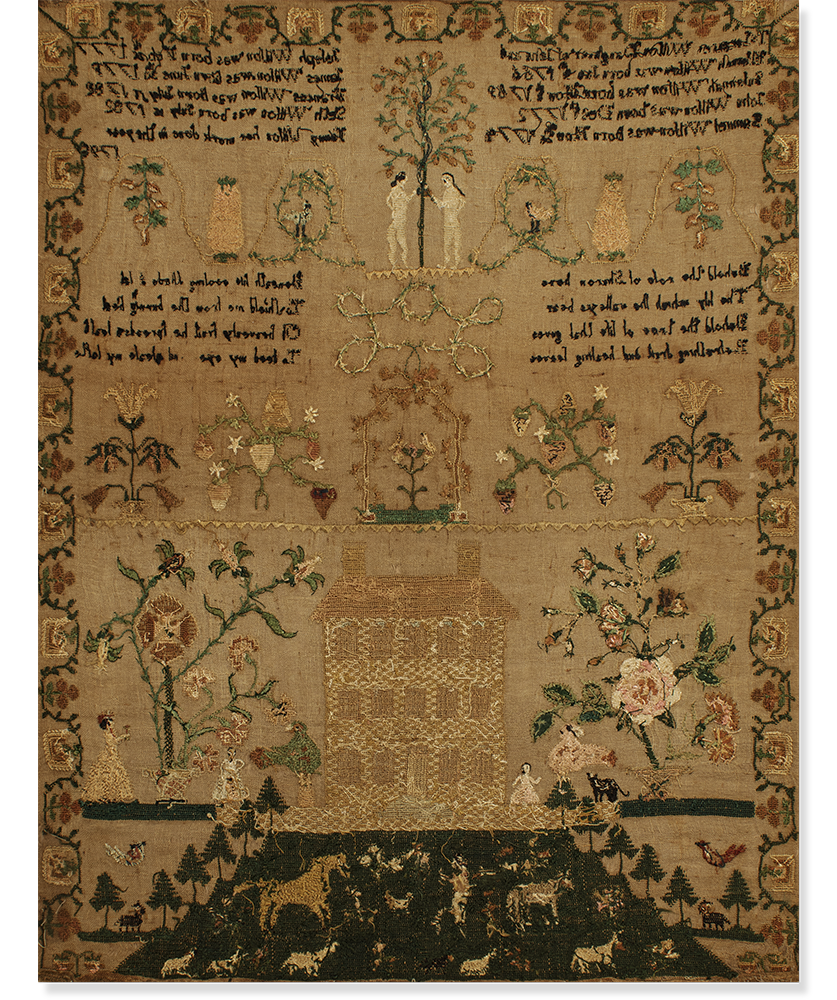 photo of reverse