Elizabeth Foster, Beverly,
Essex County, Massachusetts, 1823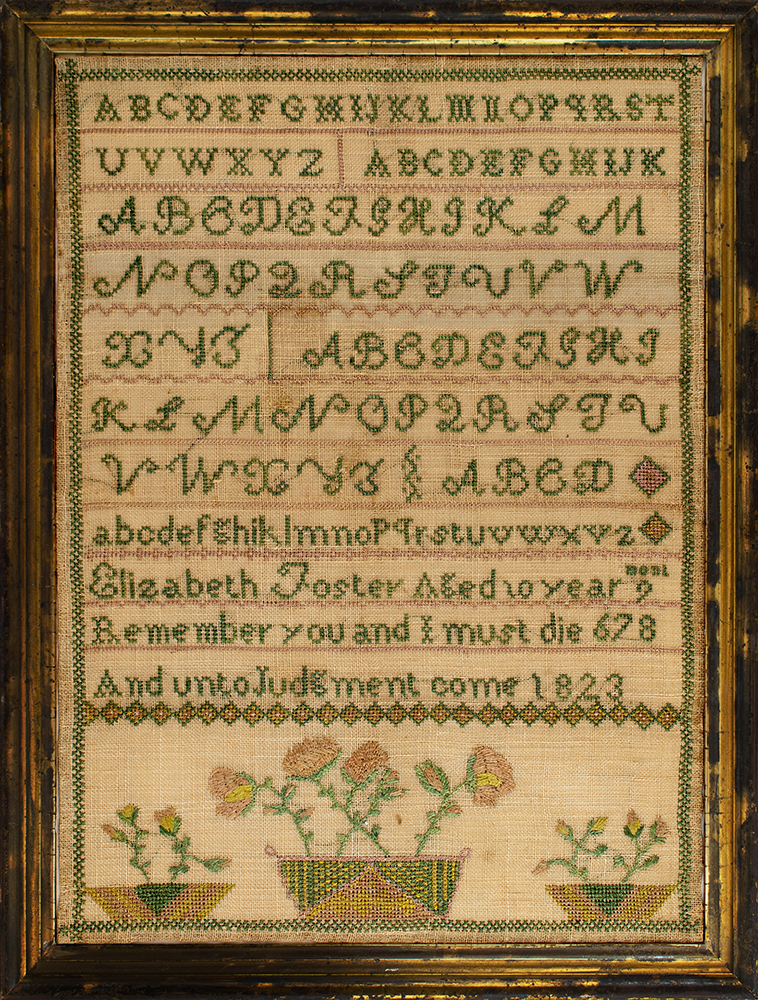 sampler size: 17¼" x 12½" •
framed size: 19¼" x 14½" •
sold
Signed, "Elizabeth Foster Aged 10 years 9 mont," this sampler includes several versions of the alphabet and depictions of three flower arrangements below. In each case, free-form flowers spring out of wonderful low baskets or bowls decorated with geometric patterns. A narrow teal border frames the sampler nicely. 
Elizabeth was born on January 5, 1813, the daughter of a mariner, Hezekiah, and Elizabeth (West) Foster who were married in 1807 in Beverly, a coastal town just north of Salem. Both families had deep roots in Massachusetts - Foster Genealogy Being the Records of the Posterity of Reginald Foster …. by Fredrick Clifton Pierce (Conkey Press, 1899) traces this Foster branch back to John Foster, Senior (b. 1626) who was born in England and was in Salem, Massachusetts by 1649. Our samplermaker, Elizabeth, married Joseph Abbott in 1834; they had one child, a son, born in 1840 and she died of scarlet fever in 1845. 
Worked in silk on linen, the sampler is in excellent condition. It has been conservation mounted and is in a patinated 19th century gold leaf frame.