Ann Glaister,
Saltcoats, Cumberland, England, 1824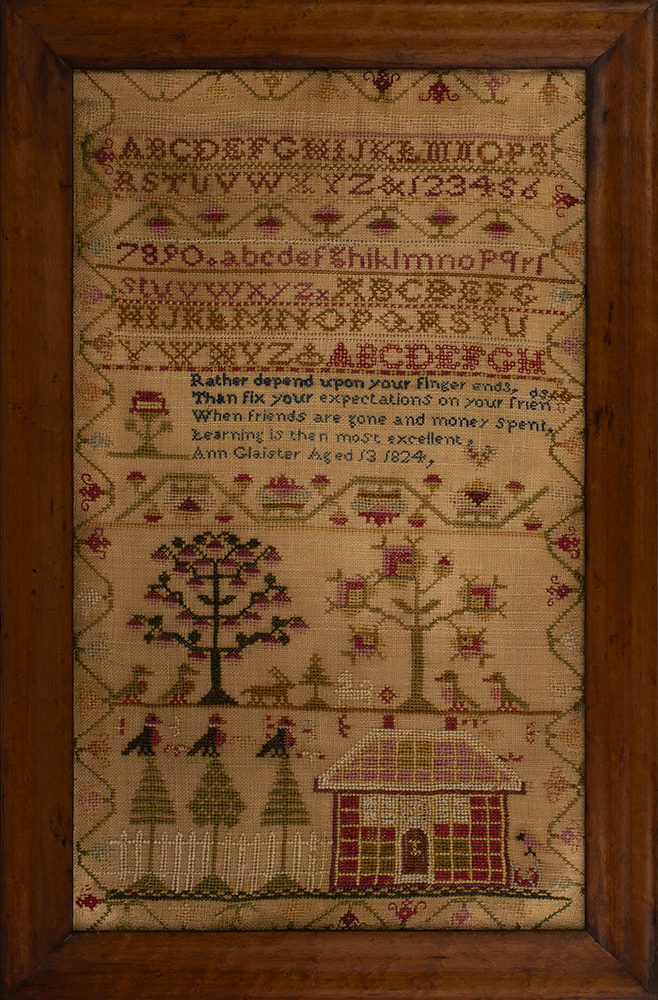 sampler size: 16½" x 9¾" framed size: 19½" x 12¾" •
2nd Saturday Sampler Special - Now sold! •
sold
This is a delightful antique sampler grounded along the bottom with a fine scene of a cottage and trees set along a picket fence with fat birds above. It also includes a carefully stitched verse that praises learning above all and counsels that the product of one's finger ends – the sampler – will outlast all else. 
Ann Glaister was born September 8, 1810, to Thomas and Ann (Dawson) Glaister of Saltcoats, a coastal village in northern England. She was the fourth of their six children. In 1840, Ann married William Little, a farmer, and they remained in Cumberland where they had at least three children. Ann died in 1881 at age 70. 
The sampler was worked in silk on linen, with dark blue silk for verse. It is in excellent condition with a few lost stitches. It has been conservation mounted into its fine, original molded maple frame.