Lititz Moravian Girl's School Silk Embroidery
by Eliza Carolina Dagen  
of New Windsor, Frederick County,
Maryland, 1822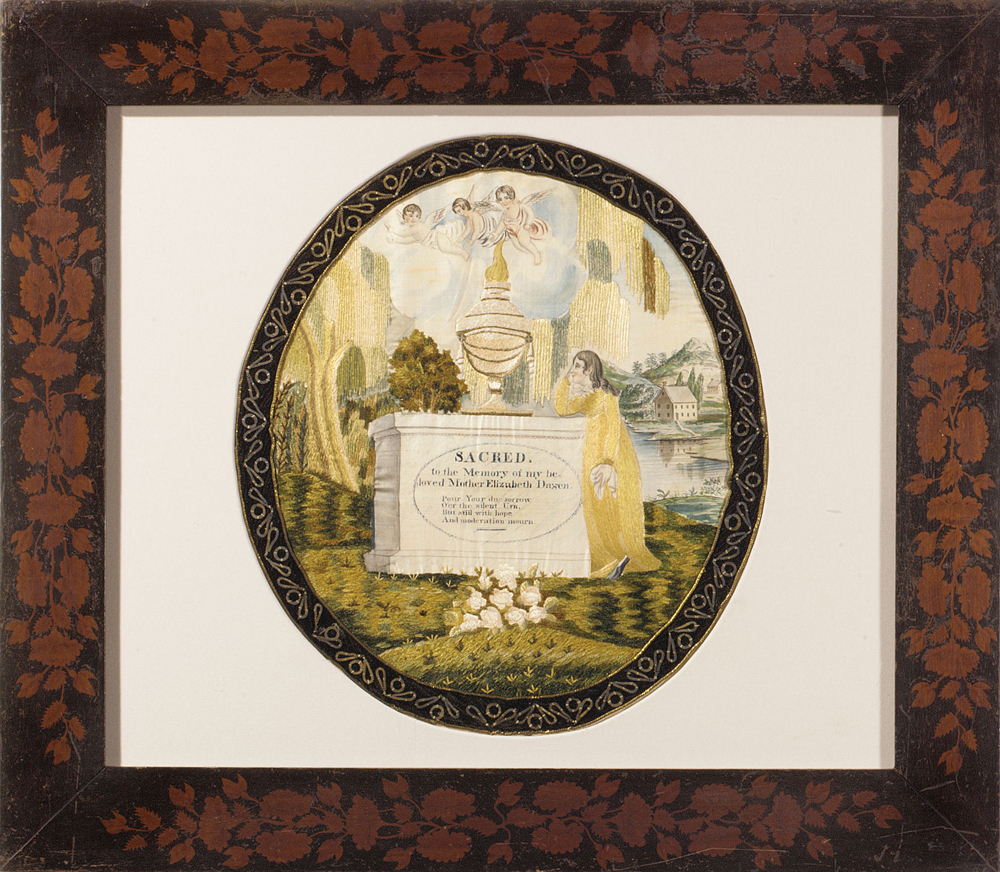 Size of the oval: 16¼" x 14½" •
Framed size: 27½" x 24" •
sold
The Lititz Moravian Girls' School of Lancaster County, Pennsylvania opened its doors in 1748, and gained a wide reputation for offering its students a strong academic education as well as teaching skills in the needle arts. In 1794, the school decided to open enrollment to non-Moravians, and to accept boarders, allowing it to become one of the most important American schools for girls, attracting students from many different areas.  High style silk embroidered pictures were a specialty of the school and mourning pictures were the most popular subject, with outstanding pieces produced between 1815 and the 1830s. 
We are pleased to offer this important silk embroidery, worked by Eliza Carolina Dagen in 1822, at age 14, while she was a boarding student at the Lititz Moravian Girls' School.  Eliza was from New Windsor, Frederick Co., Maryland where her father, John Dagen, was a merchant. The embroidery was worked in the memory of her mother, Elizabeth Myers Dagen, who had died in 1821, and the inscription reads accordingly.  The embroidery portrays the maker herself, a young woman alone at her mother's tomb.
Many of the characteristics most desired on Lititz school embroideries are included on this piece, such as the trio of angels, the marbleized tomb, the rose blossoms on the lawn and, of course, the wide chenille oval border with spangle appliqués. Some of the Lititz embroideries include small watercolor scenes of houses on a lake as is the case with this example, with a wonderful reflection of the house in the water. This embroidery was in the private collection of Patricia Herr, author of the scholarly and definitive book about this school "The Ornamental Branches: Needlework and Arts from the Lititz Moravian Girls' School 1800 – 1850."  Eliza's embroidery is illustrated as figure 24 in this book. The file of genealogy and research that accompanies this embroidery includes copies of Trish Herr's research from the school's archives, indicating, in May of 1822, a charge of $2.25 to Eliza Dagen's account.  This no doubt related to her embroidered mourning piece and was most probably the payment to the watercolor artist, Peter Grosh, whose work is at its best on this particular piece.
The embroidery remains in its original stencil-painted original frame, which is likely the work of a local Maryland framer. Worked in silk, chenille, coiled metallic thread and metallic spangles on silk, it is in excellent condition throughout.